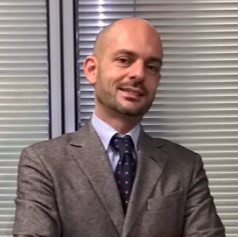 Head of Cybersecurity & Data Protection, Terna
Nato ad Avellino il 01 luglio 1976, è laureato con lode  in Ingegneria Informatica presso Università degli Studi di Napoli Federico II ed è Certified Information Security Manager (CISM) e Lead Auditor ISO 27001.
Attualmente è responsabile Cybersecurity & Data Protection del Gruppo Terna e coordina le attività di Information Security, Computer Emergency Readiness Team (CERT), Cybersecurity Engineering, Cybersecurity Assessment e Data Protection & Privacy.
Ha maturato una consolidata esperienza nelle aree di Information Risk Management, Information Security Governance, Information Security Program Development & Management, Information Security Incident Management, Physical Intrusion Surveillance, Crisis Management & Situational Awareness nell'ambito delle Infrastrutture Critiche.
Ha iniziato la sua carriera professionale partecipando a progetti tecnologici complessi in ambito Aerospazio e Difesa in società del Gruppo Finmeccanica. Dal 2004 ha fatto parte dello Staff della Direzione Sistemi e Tecnologie del Gestore Rete Trasmissione Nazionale (GRTN). Dal 2011 è stato responsabile in Terna dell'Information Security Competence Center, definendo le strategie del Gruppo Terna in ambito Information Risk Management, Compliance e Cybersecurity nei contesti IT e OT. Dal 2015 al 2017 è stato responsabile del Security Operations Center di Terna, centro nevralgico operativo della sicurezza integrata della Direzione Tutela Aziendale con coordinamento delle sale di Monitoring & Respond Physical e Cyber (h24 – 7/7).
E' autore della pubblicazione "Transformation: Evolving from SOC to CERT" del Next Generation CERTs Ebook (NATO Science for Peace and Security Series).