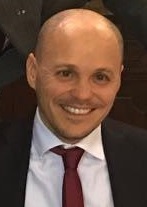 Responsabile Area Ricerca Ricerca e Innovazione, Confindustria Emilia
He started to work in Confindustria in 2004 within the marketing area,  analyzing costumer needs.
Since the 2013 he passed to work for the Innovation dept of Unindustria Bologna (before to became Confindustria Emilia) in order to launch the first direct support service on EU funding schemes for the member companies and technology transfer. Nowdays Bologna is the second region in Italy for EU funds attracted with more than 100 company involved in EU projects.
He has an extensive experience in european fundings for small, medium and large companies, technology transfer and innovation management as well as an intensive experience in techniques of networking for company business, in marketing & business management.  
Degree in Telecommunication Engineering and Master in Business Administration (MBA).