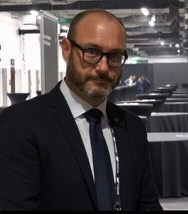 Chief Digital & Information Officer, Bonfiglioli Riduttori
Enrico Andrini has been, since 2013, Chief Digital Officer at Bonfiglioli Riduttori SPA, a 1 B$ company which designs and manufactures gearboxes used in a large variety of industrial applications (wind turbines, industrial and agricultural vehicles, assembly plants, …) headquartered in Bologna with plants and subsidiaries throughout the world.
With a master degree in Electronic Engineering, he started his career in Accenture and later with the role of CIO approached several lines of businesses from finance/insurance to consumer goods, from retail to discrete manufacturing, while retaining a relentless focus on Information Technology with the aim of streamlining and optimizing business processes.
He complements a strong technical background with business sensitivity developed in his 30 years of professional carrier and refined with an active participation to a couple of MBA programs, one in Bologna at BBS (Bologna Business School) and one at IESE in Barcelona.
Company profile
Bonfiglioli Riduttori SPA designs, manufactures and distributes a complete range of gearmotor, drive systems and planetary gearboxes to satisfy the most demanding needs for industrial processes, automation, mobile and renewable energy applications.
It was founded in 1956 by Clementino Bonfiglioli who started designing the first worm gears (the VF Series) to be supplied to major local industries in the packaging sector.
Nowadays the yearly turnover is around 1 billion dollars and employees are nearly 4000.
Plants and commercial subsidiaries are present in 15 countries around the world and a consolidated network of distributors ensures the sales and related support in the rest of the world.
Excellence, innovation and sustainability drive the growth as a company and team, and guarantee the product and service quality.
Its R&D, quality and manufacturing departments pursue excellence in everything they do. From research of new technologies and solutions to production of each part to high quality standards.
Consistently, in the last year and a half, Bonfiglioli launched a successful digital transformation initiative aimed at briskly accelerating the adoption of digital technology both in the factory and onto its products.
This has entailed the possibility of accumulating large data sets that the company is starting to exploit in order to increase overall equipment efficiency in the shopfloor and reliability and adequacy of gearboxes to the related functional applications.